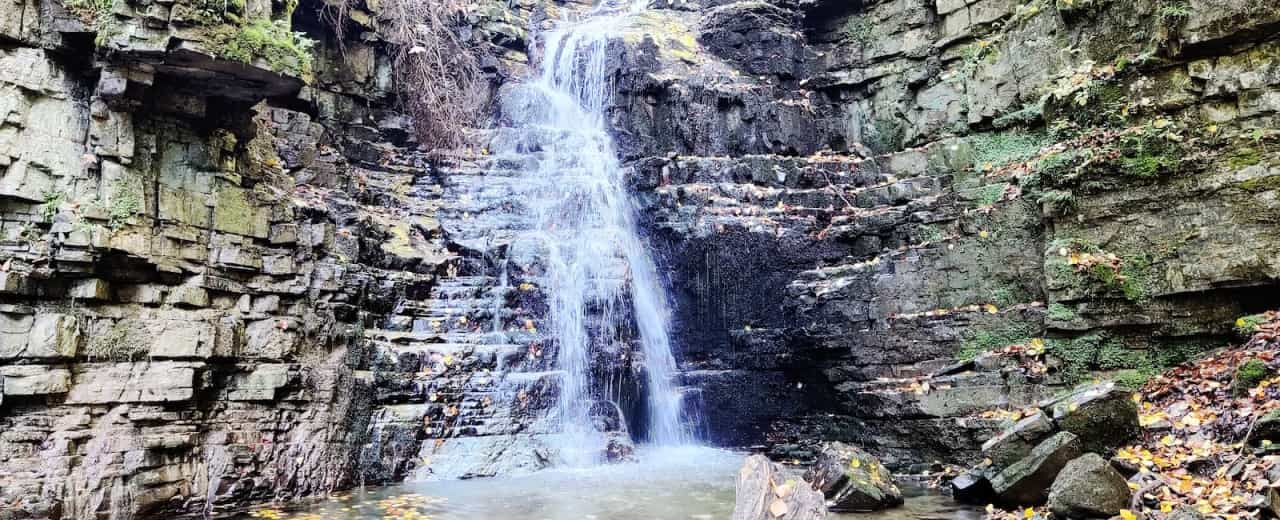 Show table of contents
Great place which has to be a part of your tourist route. The waterfall is located in the Ukrainian Carpathians, the Gorgany mountain range, a picturesque, beautiful place. In summer, its waters allow you to refresh, cheer up and recharge your batteries. The waterfall looks very beautiful in winter, when water currents freeze on a steep cliff, creating amazing ice growths. A feature of Dzvinka is its location, relatively difficult approach, lack of good roads within a radius of 3-4 kilometers.
Description of Dzvinka waterfall
It was formed on a small stream, a right tributary of the river Bukhtivets, where the stream crosses the cliff and has a height of about 5.7 meters, 669 meters above sea level. The waterfall is especially beautiful during heavy rains, as well as during snow melting. In times of drought, it is not so beautiful, but does not dry out completely and is able to leave a pleasant impression. Interestingly, near Dzvinka there is another small sign of the waterfall, which has no name and a height of not more than 6 meters.
Of particular note is that the road to the waterfall is not known to every local, and there is no talk about the crowds of tourists. It is very rare to meet a traveler here. The reason is very simple - poor accessibility, lack of roads. This fact makes the natural monument even more attractive to visit. It is desirable to plan a trip to the waterfall with an experienced guide, which will make the holiday interesting and completely safe.
Video from the Dvinka waterfall
Infrastructure and what to do?
When planning a trip to Dzvinka, we recommend that you pay attention to a number of other interesting objects that will be on the way. In particular, we are talking about the Krapelnyi and Bukhtivetskyi waterfalls, which are only 1.5 kilometers away. Along the way you can enjoy the singing of birds, the sound of the wind and walk the shaded wooded paths. 5 and 10 kilometers from Dzvinka are the Small Bukhtivetskyi Waterfall and the Maniava waterfall. Places are popular among lovers of picnics, camping.
Unfortunately, there are no cafes or other locations near the waterfall where you can get refreshments. The nearest town, where you can find good cafes and restaurants, is the city of Nadvirna. In particular, we can note the complex "Vidpochynok", designed for 120 people with two halls with modern interiors and live music. The menu includes dishes of European cuisine and international cuisine. Among the branded positions can be noted "Sushi", "Dorado sunfish", salad "Caesar on duck breast", "Quail with salsa sauce", "Luleh kebab", "Lamb curry", "Honey pear", "Tiramisu" and others.
It is quite good to sit in the Hot Cafe and the cafe "Kazka". These establishments offer a wide range of pastries, pancakes, cupcakes and more. The option is perfect for visiting with children, celebrating a birthday, holding various events. Ideally, it is advisable to book a table before your visit, you will be sure that you will have a good time. If you want, you can get support in neighboring cities. This can be done in Yaremche, Kolomyia or Ivano-Frankivsk, where the choice of restaurants, cafes, fast food is much larger and more interesting.
If you decide to combine a hike to the Dzvinka waterfall with an overnight stay, it is best to do it in one of the hotels in Nadvirna. Decent living conditions are offered in the "Staryi Dvir" complex in the central part of the city. The hotel has its own cafe bar, car park. The rooms have single beds, double beds, appliances, furniture, toilet, shower, hot and cold water. It is possible to order a set lunch. The estate "Ozerel" in the village of Chervona also has good conditions. The complex offers dairy and meat products of its own production.
Relatively nearby, in the village of Huta, there is the guest house "Hi-Huta", which is located in a natural oasis, surrounded by rivers, lakes, waterfalls and mountains. It offers single and double rooms with a private fireplace and satellite TV. The bathroom is shared. You can choose from a menu of national cuisine. In the same village you can stay in the estate "GUTA WEEKEND" - a fabulous, cozy house with a thatched roof, where there is a fireplace and a covered terrace, kitchen, sauna and a number of other amenities. The cost of renting a house must be specified.
Location
Dzvinka Waterfall is located on the west of the village of Sokolovytsia, Nadvirna Raion of Ivano-Frankivsk Oblast. You can reach Nadvirna from Ivano-Frankivsk (local bus station) by suburban buses. Then you need to change to a minibus towards the village. After arriving, you will have to walk 5 kilometers from the bus stop to the waterfall. As an alternative to buses, you can choose commuter trains, but it will be desirable to clarify the train schedule in advance. The easiest way to find a waterfall is by GPS coordinates 48.59542847 24.38175392, which will accurately lead to the destination.
Overview
Summary about waterfall «Dzvinka»
| | |
| --- | --- |
| Location coordinates | 48°35′42″ N 24°22′48″ E |
| Height | 5.7 meters |
| Cafe/Shop | no |
| Approach by car | SUV, the last 500 meters only on foot |
| Congestion | low |
| Additional entertainment | no |
| Price | free |
Gallery
Gallery waterfall «Dzvinka»
User reviews
User ratings and reviews about waterfall «Dzvinka»