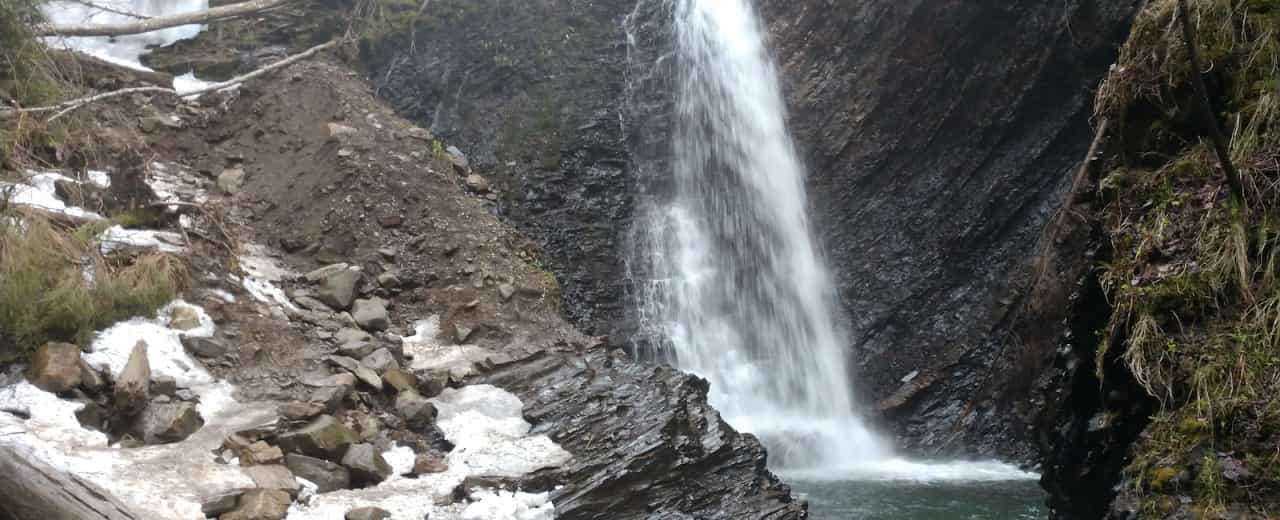 Show table of contents
A great place that guarantees a colorful holiday at any time of year. Zhenetskyi Huk will give every tourist the opportunity to see the enchanting views of the Horhany mountain range, a beautiful river valley, numerous rock ledges and towering spruces. The waterfall is a must-see for popular tourist routes in the Carpathians and impresses with its accessibility. It got its interesting name due to the noise made when water falls from a height on a massive rock.
Description of Zhenetskyi Huk Waterfall
The object appeared in the last century due to floods. The relatively young waterfall has only one cascade and a height of no more than 15 meters. It is especially beautiful in the spring, when the snow begins to melt actively, as well as during the downpour. It is then, together with the main flow of the river Zhenets, Huk descends additional accompanying small streams, creating a kind of water body with a characteristic sound. In the cold season, severe frosts, the location acquires a special beauty, which is more reminiscent of the abode of the Snow Queen, shimmering in the sun in different colors.
Video from Zhenetskyi Huk Waterfall
Infrastructure and what to do?
There are several observation decks near the waterfall, fortified with reliable handrails, which guarantee a quiet and pleasant stay. It should be noted that Zhenetskyi Huk is ideally viewed from different points of the location, including below and above. All guests of this place have the opportunity to sit down, sit comfortably at cozy tables and benches. You can take unique photos on one of the bridges over the stream. Remember that it is quite possible to get injured in the pursuit of unusual pictures on wet and frozen stones. In general, the waterfall is considered relatively safe.
Next to Zhenetskyi Huk there is a small souvenir market where you can buy handicrafts. Local shops offer the most delicious wines, mulled wine, Carpathian teas with honey and pepper coffee, which allow travelers to warm up and get a boost. A little further on the left tributary there is no less interesting single-stage Narinetskyi Waterfall, which reaches a height of 10 meters. Around this place there are a lot of opportunities to walk in the woods, ride a horse, try out the possibilities of SUVs, take a bike or just organize a small picnic in specially designated areas.
You can have a good meal in one of the restaurants located near the waterfall. For example, as an option, it is recommended to visit the Cufer, which is only 4.8 kilometers from Zhenetskyi Huk. The restaurant menu features European, Russian, Eastern European and Ukrainian cuisine. Prices are quite democratic. Not a bad option is the restaurant Carparosa Restaurant, which is 5.7 km from the waterfall, which presents, among other things, Asian cuisine and seafood.
Within 30-40 minutes' walk from Zhenetsky Huk there are a lot of offers where you can get cheap and comfortable rest. Good conditions are available in the three-star hotel "Olha", 4-star hotel FB Spa Resort (Fomich Hotel) in the style of a chalet, which has a swimming pool and sauna. Interesting conditions are in the cottage "Oleksandr", the hotel "Dykyi Med", the hotel "Lavina". It should be noted that prices may vary depending on the season, which is recommended to clarify a few days before your visit.
Location
Getting to the waterfall is very easy. A modern asphalt road 3 kilometers long leads to it. It was built during Viktor Yushchenko's presidency in order to make it easier to access the state residence. Then, behind it, you will have to travel approximately the same distance covered by a dirt road. In dry weather, people go to Zhenetsky Huk on horseback, and in winter in the snow - on sledges or SUVs. To visit the object on your own, it won't hurt to use the exact coordinates of 48 ° 23′27.0 ″ N. 24 ° 30′00.0 ″ S. and a GPS navigator that will not allow you to get lost.
The easiest way to get to the waterfall is from the city of Ivano-Frankivsk or Chernivtsi (which, for example, from Kyiv, can be reached by shuttle buses or rail in 12-14 hours). You will have to spend no more than 15 minutes on suburban minibuses on the way from Mykulychyn and Tatarove. It is advisable to warn the driver of the vehicle in advance about your intention to leave before turning to the waterfall, from where you need to go about 8 kilometers. If you drive your own car, it is best to focus on the turn "Zhenets Forestry".
Overview
Summary about waterfall «Zhenetskyi Huk»
| | |
| --- | --- |
| Location coordinates | 48°23′27.0″ N 24°30′00.0″ E |
| Height | 15 meters |
| Cafe/Shop | yes |
| Approach by car | by SUV |
| Congestion | medium |
| Additional entertainment | horseback riding, jeep safari |
| Price | adult = 30 UAH / children's = 15 UAH |
Gallery
Gallery waterfall «Zhenetskyi Huk»
User reviews
User ratings and reviews about waterfall «Zhenetskyi Huk»