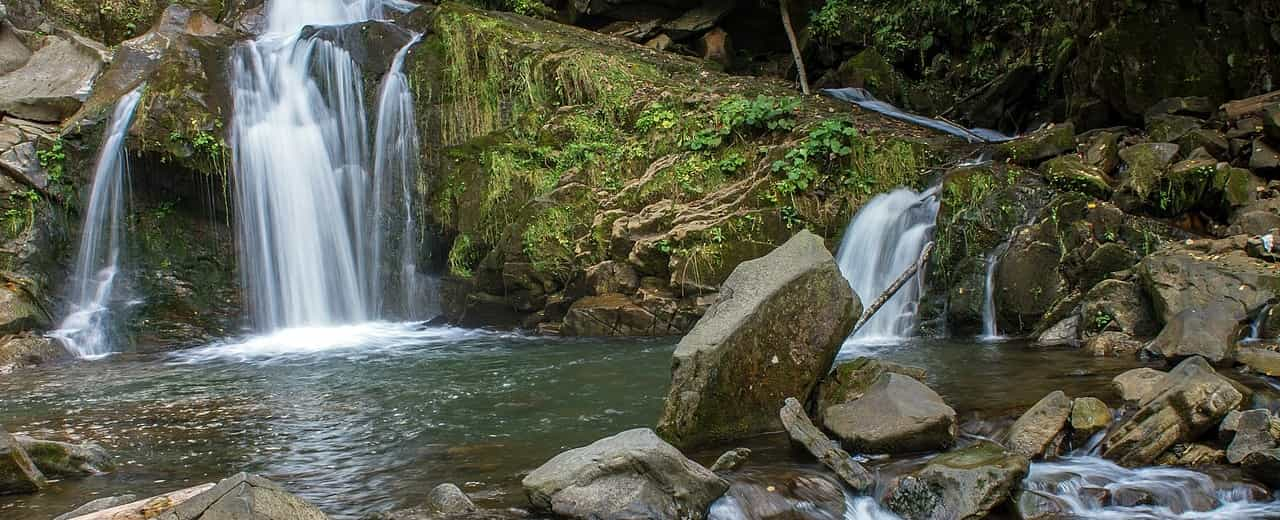 Show table of contents
Tourists who have visited the Carpathians at least once, will definitely want to return to such an unusual place again and again. This is due to the picturesqueness of the area, a large number of natural resources and attractions. Some come to the mountains to pick juicy berries, mushrooms, others - to make a pleasant walk in unusual places, others - to try themselves at ski resorts and more. It should be noted that summer is the most suitable, and at the same time safe time of year to visit western Ukraine, especially waterfalls.
Description of Kamianets (Kamianka) Waterfall
The object got its name from the river where it is located - Kamianka. We'll note that this is one of the most popular waterfalls in the Lviv Oblast. Its feature is a unique location - in the National Natural Park "Skole Beskids", which is under state protection. Around the Kamianets miracle there are amazing wooded slopes, many greenery, rock formations. The place is ideal for bright photo sessions and setting up a tent camp.
Kamianets Waterfall reaches a height of 6 meters and consists of only one cascade, which does not make it less beautiful compared to larger formations. Due to the small rock ledge, it is divided into two separate streams, which make the object even more voluminous and majestic. The best time to watch the year is spring, the rainy season. This is due to the high water of Kamyanka, as in summer the water level in the river drops to a critical level and, in fact, looking at the waterfall is not so pleasant.
Video from Kamianets Waterfall
Infrastructure and what to do?
On the outskirts of the river Kamianka lies a number of unique natural sites that are worth seeing. It is not only about majestic waterfalls, but also numerous caves, rocks, mineral springs and more. Special mention should be made of the valley, which is of particular interest not only in terms of tourist walks, but also scientific activities. Every year various expeditions and groups of students come here. Near Kamianets Waterfall there are several equipped recreation areas and observation decks where tourists like to gather.
It is recommended to combine a hike to the waterfall with a visit to the Naftusia mineral spring. Already on the approach to it will be "audible" characteristic oil flavor (due to the quality and availability of healing waters). Another interesting place is the Lake Mertve, rich in hydrogen sulfide. Special mention should be made of landscapes, rare plants and the amazing spruce forest.
The location will give bright, unforgettable impressions, a feeling of lightness and freedom. You should not deny yourself the pleasure of visiting the mountains Kliuch and Parashka, as well as meeting with no less interesting Hurkalo Waterfall.
Not far from the Kamianets wonder of nature there are several places where you can get a good meal. Only 4 kilometers from the object there is a restaurant Okko, 9.8 kilometers in the village Bubnyshche - restaurant Skelia, in Korostiv 9.1 kilometers - cafe-bar Motel Okay. It is worth stopping at the Zolota Forel complex, where you can taste Ukrainian and Eastern European cuisine, delicious soups, fish dishes. In addition, we note the restaurant A la minute in Skole, which offers great side dishes for lunch and dinner.
You can find a good a place to stay near the waterfall in one of the hotels. Zolota Forel сomplex is considered to be one of the most affordable in terms of price and distance. It offers one of 15 rooms, SPA-center, own restaurant, playground, games room. It is better to specify the cost of living in advance. Almost within walking distance, on the Danyla Halytskoho street, there is another interesting economy class complex Vivcharyk.
Location
Getting to Kamianka Waterfall is relatively easy. It is recommended to start your hike from the village of Skole. From it begins a convenient marked route lasting about 7 kilometers and a well-trodden hiking trail. It will be necessary to go all the way up the Kamianka. An alternative could be a route from the railway Skole (up to 10 km). In addition, you can go to the waterfall from the village of Dubyna or Korostiv, whereas the duration of the route is more than 15 km. In any case, additional training will not hurt before hiking.
In Skole, in addition to the railway, there is a bus station. Therefore, for example, if you go from Kyiv, it is enough to get to Lviv. Next you need to use suburban trains or buses to get to the village of Skole. If you are going to make an independent hike or dare to go to Kamianets beauty in a personal car, we recommend following the coordinates 49 ° 02′01 ″ N. 23 ° 33′51 ″ S .. So you get to your destination with almost no problems. It should be noted that the road to the object is paid, so you need to have cash.
Overview
Summary about waterfall «Kamianets»
| | |
| --- | --- |
| Location coordinates | 49°02′01″ N 23°33′51″ E |
| Height | 6-7 meters |
| Cafe/Shop | no |
| Approach by car | by SUV |
| Congestion | low |
| Additional entertainment | no |
| Price | 12 UAH. (adult) / 6 UAH (student up to 13 years inclusive). |
Gallery
Gallery waterfall «Kamianets»
User reviews
User ratings and reviews about waterfall «Kamianets»