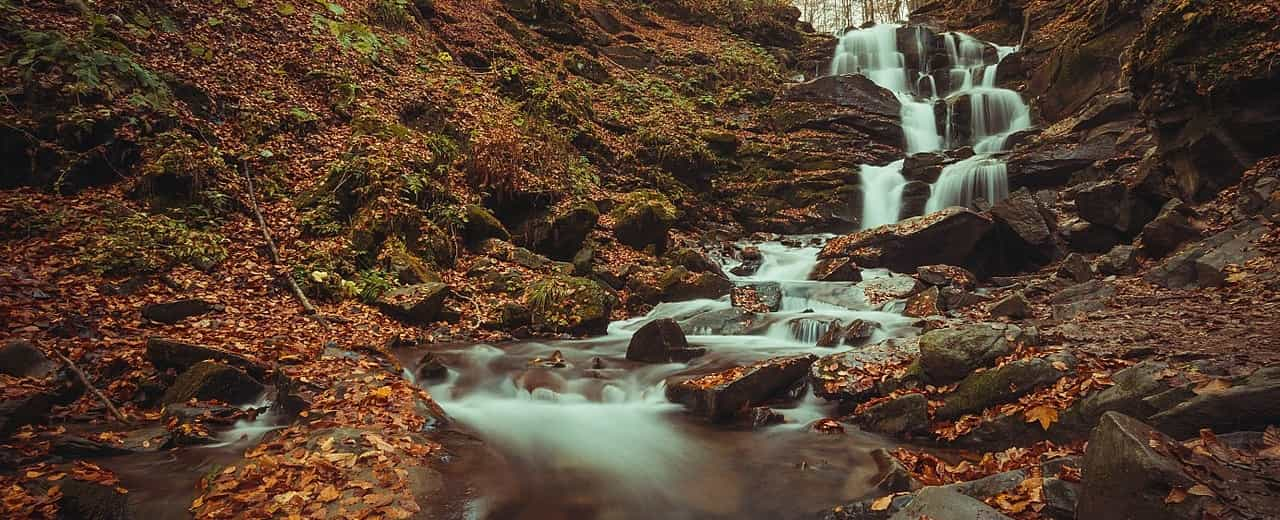 Show table of contents
There are many interesting places in Ukraine that can surprise any tourist with its beauty and untouched nature. It is necessary to tell separately about the unusual location located in Zakarpattia - Shypit Waterfall. According to scientists, it was formed at the exit of Paleogene sandstones and gravelites with thin layers of shale. A good choice for all those who plan a hike in the mountains, especially in the spring, when the waterfall is actively "fed" by the waters of melting snow.
Description of Shypit Waterfall
The object surprises with its majesty and grace. Its mystical beauty and powerful appearance stand out against the background of other waterfalls in the Carpathians. A trip to it can be organized at any time of the year. It is best to set off in the spring, when Shypit is fed by the waters of the snow coming down from Mount Hemba. No less beauty can be seen in the fall, when the waterfall appears in the arms of the romantic Carpathians.
The waterfall appeared as a result of washing away rocks by mountain rivers, as a result of which an exit to a deep gorge was formed. It should be noted that the locals call the existing underground source "Sea Eye". It is important to say that the height of Shypit is 14 meters, and the number of its cascades does not exceed 5. The nearest high-speed ski lift is only 300 meters away.
In winter, Shypit partially freezes, which makes it especially attractive. At this time, before the eyes of visitors is just a fantastic spectacle, when the crystal water jets rush down the rock surface. The beauty of the waterfall can be enjoyed from different angles, which makes it in a sense special. In any case, the opening landscapes will delight with their dizziness and unforgettable appearance.
There are many legends around Shypit, most of which have a romantic connotation. Especially beautiful is a love story, imbued with a certain drama. According to stories, a girl from a rich family fell madly in love with an ordinary country boy. For a long time, a couple in love hid their relationship from their parents and met at the foot of Mount Hemba. The girl's mother became suspicious and tracked down her daughter and found out everything.
The revealed secret caused terrible anger. The young lady heard curses and condemnation towards herself, which provoked a storm. Heavy rain caused a powerful stream, which literally took the lovers. They could not be saved. After this incident, the girl's mother repeatedly came to this place and cried, resulting in a powerful mountain waterfall with a characteristic girl's "whisper".
There is a version that this legend was the reason for obtaining the appropriate name of the object. According to another version - the name Shypit appeared as a result of the constant noise of water, which is easy to hear a few hundred meters. Many tourists are surprised to admit that indeed, such a strong flow of water can create such a well-heard and unusual sound.
It is also interesting that Shypit is repeatedly found in various literary works. In particular, it is mentioned in the novel by the famous modern Ukrainian writer Liubko Deresh. In addition, the famous festival of subcultures and other significant events were repeatedly held near the waterfall. Recently, the location has become a popular tourist attraction.
Video from Shypit Waterfall
Infrastructure and what to do?
In summer, you can refresh yourself at the waterfall, have a picnic, enjoy the mountain scenery and just relax. At the foot of the mountain beautie there are several wooden bridges and gazebos, which are ideal for watching a very unusual natural work of art. It is better to combine a trip to Shypit with visiting other equally interesting places, in particular Lake Synevyr, the Brown Bear Sanctuary, etc.
You can stay overnight in one of the hotels nearby. Good conditions are offered in the complex "Pos Pylypets", located in the village of the same name, on the street Pylypets, 342A. The hotel is located next to the forest. There is a lobby, terrace, furnished rooms, barbecue, parking, ski storage. The room supply includes a double room, a chalet for 10 people, a chalet for 12 people, a family suite. Prices must be clarified in fact a few days before arrival. Advance reservations are possible.
A good alternative is the Zarynok Hotel at 342 Pylypets Street with a children's playground, its own restaurant with national cuisine, a conference hall, a sauna, a billiard table, karaoke and more. Another good option is "Chalet in Pylypets". There are comfortable beds, air conditioning, TV, solid wood furniture, dining area, bathroom with bath accessories.
If you decide to stay at the hotel "Shepit Karpat", you can refresh yourself in their cafe with a wide range of dishes of traditional national, European and Hutsul cuisine. It is worth noting the luxurious selection of sweets and desserts. The menu includes salads, cold meats, hot snacks, first courses and more. The bar of the complex will delight with a variety of soft drinks and alcoholic beverages. Here you can visit a pizzeria, order a hookah, play billiards or just enjoy the peaceful atmosphere on the second floor. A good alternative is the cafe bar restaurant "Ozero Vita" and "Hazdivska Khyzha".
Location
Shypit Waterfall is located in the Mizhhiria Raion of Zakarpattia, near the village of Pylypets, near the famous Lake Synevyr. Volovets Train and Bus Station is just a few minutes away. If you drive, you need to go on the highway T0717 to the village of Pylypets, and then about 6 kilometers west of the waterfall. By bus, it is better to go towards Mizhhirya, get out in Podobivka, from where you can get to your destination on foot. The easiest way to find Shipit is by GPS coordinates - 48.656335 N, 23.268805 O.
Overview
Summary about waterfall «Shypit»
| | |
| --- | --- |
| Location coordinates | 48°39′24″ N 23°16′11″ E |
| Height | 14 meters |
| Cafe/Shop | yes |
| Approach by car | it is possible to leave the car in 5 minutes from the location |
| Congestion | high |
| Additional entertainment | near a large entertainment infrastructure of the resort Pylypets |
| Price | general - 20 UAH, children 7-16 years old - 10 UAH; children under 7 years old - free of charge |
Gallery
Gallery waterfall «Shypit»
User reviews
User ratings and reviews about waterfall «Shypit»